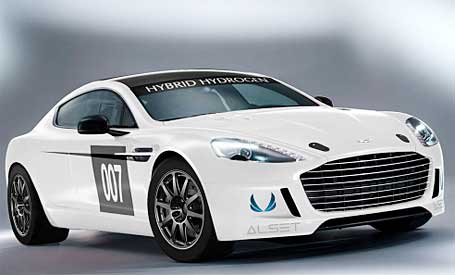 At the ADAC Zurich 24-Hours of Nürburgring Race May 2013, Aston Martin will be racing the hydrogen hybrid version of their Rapide S sports car. The demanding circuit race code named "Green Hell" will showcase the ability of the Rapide S to work in hydrogen mode and emit only water vapor as a byproduct.
According to Aston Martin, "Working in partnership with hydrogen experts Alset Global, Aston Martin's engineers have developed a prototype twin turbocharged 6.0-litre V12 engine that will power the Nürburgring car.
"Capable of running on pure gasoline, pure gaseous hydrogen, or a blend of both, the Hybrid Hydrogen race car showcases Aston Martin's commitment to engineering innovation. In pure hydrogen mode, Aston Martin and Alset Global aim to show that a zero CO2 emissions lap of the Nordschleife is possible while emitting virtually only water from the exhaust."
Aston Martin says the Rapide S carries a lot of "firsts" with it, which it does. The car, though, reminds me a little of the BMW HR2 hydrogen racecar. The HR2 is a dual fuel vehicle running on either gasoline or hydrogen and set 9 international and FIA-ratified land-speed records for hydrogen cars.
That said, I still predict that the Aston Martin Rapide S will become a rapid favorite with hydrogen racing fans.