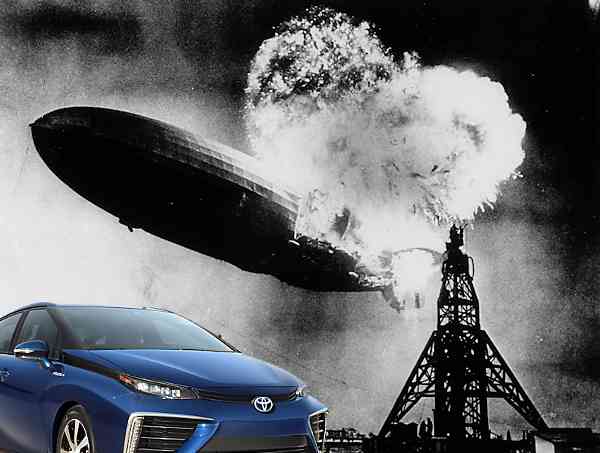 The cause of the Hindenburg disaster was most likely a spark to the outer skin of the vessel. This has been well-publicized. Those critics and naysayers who continue to perpetuate the myth that the safety of hydrogen cars are akin to the Hindenburg are either fear-mongering or simply spreading ignorance.
So, let's have a look at the top 5 web pages that debunk the Hydrogen Car / Hindenburg safety myth.

Top 5 Webpage Debunking the Myth
Hydrogen Myths –
Here's why hydrogen-fueled cars aren't little Hindenburgs – http://www.computerworld.com/article/2852323/heres-why-hydrogen-fueled-cars-arent-little-hindenburgs.html
You Won't Believe How Safe Toyota's Hydrogen Car Is – http://www.fool.com/investing/general/2014/10/05/you-wont-believe-how-safe-toyotas-hydrogen-car-is.aspx
Hindenburg & Hydrogen – http://www.abc.net.au/science/articles/2004/02/26/1052864.htm
Hindenburg Fallacy & Urban Myth – http://www.hydrogencarsnow.com/hindenburg-fallacy.htm
Enough debunking? I think so.