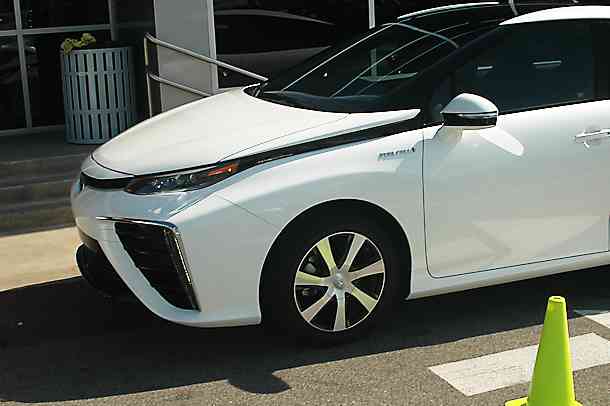 There is an old joke that hydrogen (and hydrogen cars) are the future and always will be. The phrasing has changed from one hater, critic or denier to the next, but the sentiment is the same.
And I beg to differ on this statement. As I test drove a Mirai fuel cell vehicle (pictured above) at the Toyota of Orange, California dealership on July 30, 2015, in anticipation of the rollout of the commercial vehicle in October this year, it's become apparent that hydrogen cars are now.
Hyundai has been leasing their Tucson FCEV for over 1 year now in the U. S. and soon Toyota will be selling their fuel cell vehicle on American soil as well. And as this joke has become irrelevant and obsolete I was interested in doing a little research on who used to tell humorous jab and those that are still telling it.
Here is a list of what I have found:
Past Critics and Deniers
2004 – http://issues.org/20-3/romm/ – They Hype about Hydrogen from Joseph Romm
2006 – – The Death of Hydrogen? Fuel Cells, Marketing and the Future.
2007 – http://www.thenewatlantis.com/publications/the-hydrogen-hoax – The Hydrogen Hoax
2009 – https://ecobarons.wordpress.com/hydrogen-blast-the-fuel-of-the-future-and-it-always-will-be/ – Hydrogen Blast: The fuel of the future… and it always will be
2009 – http://www.thecarconnection.com/news/1020575_electric-cars-are-coming-hydrogen-maybe-not-so-much – Electric Cars are coming – Hydrogen cars maybe not so much
2009 – http://www.technologyreview.com/news/413475/q-a-steven-chu/ – U.S. Energy Secretary, Dr. Steven Chu says fuel cell cars have no future.
2010 – http://www.pluginamerica.org/faq/what-about-hydrogen-cars – What about hydrogen cars?
Recent Critics and Deniers
2013 – http://www.wired.com/2013/10/elon-musk-hydrogen/ – Elon Musk calls Hydrogen Bull$#T!
2014 – http://www.autoblog.com/2014/08/05/why-battery-electric-vehicles-will-beat-fuel-cells/ – Why battery electric vehicles will beat fuel cells – Hydrogen Is The Fuel Of The Future, And Always Will Be!
2015 – http://evobsession.com/hydrogen-fuel-cell-cars-fail-in-depth/ – Hydrogen Fuel Cell Cars — #FAIL, In Depth
To recap, this is just a small sampling of what the hydrogen haters have had to holler about, past and present.
But, hydrogen cars are here now. And to the hydrogen haters, deniers and critics I say, "Crow is a dish best served cold."