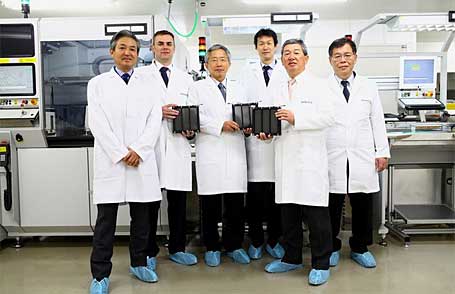 This is an update from the news on February 7, 2012 that Suzuki and Intelligent Energy had formed a partnership called SMILE FC System Corporation. Under this arrangement each will have a 50/50 stake in the corporation.
The announcement today, is that SMILE FC has already produced some tangible results over the past year of the partnership. SMILE FC "…has successfully established a ready-to-scale production plant for its fuel cell systems in Yokohama, Japan.
"The production line marks the successful transfer of proven semi-automated production technology, developed and utilised by Intelligent Energy. This represents the next stage in high volume production of fuel cell systems with associated reduction of manufacturing and assembly costs as well as improved cycle times and enhanced product quality.
"The manufacturing centre will be scaled up to supply fuel cell stacks for integration with Suzuki vehicles. The joint venture has access to Intelligent Energy's fuel cell technology under a non-exclusive licence, thereby accelerating the commercialisation of Suzuki's fuel cell vehicles."
As I had stated two weeks ago, Suzuki has one fuel cell car, motorcycle and scooter of note. The Suzuki Ionis minivan was first shown in 2005. The Suzuki Crosscage motorcycle was first shown in 2007. And the Suzuki Burgman scooter was first shown in 2009.
Even though Suzuki hasn't come up with a new fuel cell vehicle prototype in a few years, this SMILE FC partnership shows that they are now in crouching tiger position ready to pounce. And of course the photographer taking the photo of the Suzuki and Intelligent Energy VIPs above should have told them to SMILE for the picture.