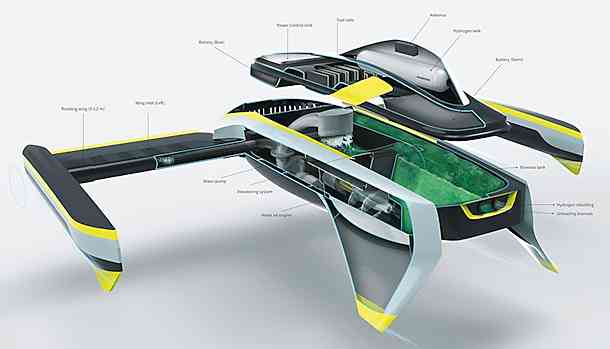 Fredrik Ausinsch, a Swedish industrial design student, has envisioned a futuristic unmanned hydrogen fuel cell drone that cleans ocean algae and produces hydrogen fuel. Mr. Ausinsch envisions his algae sea collector to one day roam the Baltic Sea cleaning toxic algal blooms, creating biofuels (which can be used to create hydrogen), fertilizers and other products.
According to Mr. Ausinsch, "The concept is based on hydrogen fuel cell technology with two electric-driven pumps. One for each side. This makes the vessel quiet and more adapted to its environment. The only emissions from hydrogen fuel cells is water and heat. Heat is used to dry the algae biomass.
"Surface blooms are often concentrated at the surface and reaches 1 meter down in the water. The lower wing can be adjusted to cover a maximum depth of 1,5 meters.
"It's operated from an external cockpit located in a service boat nearby which also empties and refuels it when needed."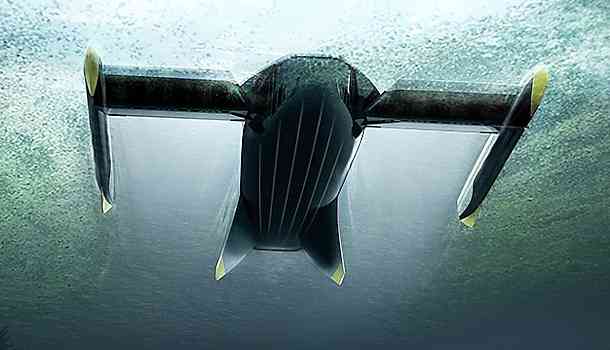 So, there you have it, a future fuel cell drone that not only uses hydrogen for fuel but can also harvest algae in order to create hydrogen fuel. Perhaps one day Fredrik Ausinsch will team up with the Imperial College London's Energy Futures researchers who are currently working on a slick method of producing hydrogen from algae.
External References
http://www.uid.umu.se/en/uid-14/projects/id/fredrik-ausinsch/?lang=sv
http://news.discovery.com/tech/alternative-power-sources/floating-drone-harvests-algae-for-fuel-151106.htm
http://www.designboom.com/technology/fredrik-ausinsch-algae-drone-colllector-11-09-2015/
http://www.bbc.com/news/technology-34699166