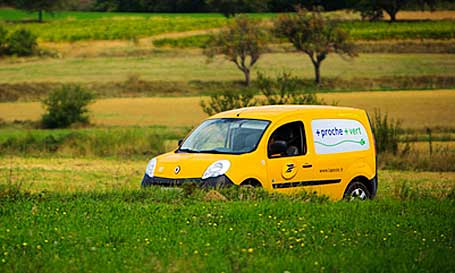 The French La Poste (postal service) is testing hydrogen fuel cell range extenders in their battery electric delivery trucks in the Franche-Comté region. Symbio FCell is supplying the hydrogen range extender kits.
According to the press release, "As part of a performance validation test in real working conditions, the Renault Kangoo Z.E. electric vehicles used by La Poste will be equipped with hydrogen fuel cell range extender kits by Symbio FCell. They will be deployed in the first quarter of 2014 on mail delivery platforms.
"These vehicles, with a combination of a hydrogen fuel cell and batteries, offer an extended range that performs even under the most demanding conditions: mail routes of 100 km or more through the cold, hilly and mountainous terrain. This system is expected to double the range of the electric cars used for postal delivery."
The French postal workers will find an advantage in this technology as well since the all-battery vehicles are a bit weak on heating and defogging and this will be improved with the hydrogen fuel cell range extender. Vive le fuel cell!