Hydrogen Racecars and H2 Races
Hydrogen race cars need to be in races in order to showcase to the world the upcoming hydrogen highways and hydrogen raceways of the future. New technology is most often showcased by the most dramatic means possible and running hydrogen race cars on hydrogen raceways is no different.
Hydrogen Racecars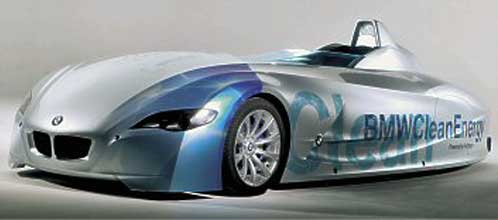 BMW H2R
The single seat BMW H2R has most recently set a land-speed record for H2 car of 185 mph plus eight other speed records as well. Tossing fuel cell technology out the door, BMW instead reworked their 6.0 litre V12 combustion engine, adapted for hydrogen to meet the speedway requirements. The H2R accelerates from 0 to 60 mph in just 6 seconds. The speed records were set at the Miramas Proving Grounds in France.


Buckeye Bullet 2
The Ohio State University (OSU) Buckeye Bullet 2 is a hydrogen-powered racecar that will be attempting to break the land speed record for fuel cell vehicles. The Buckeye Bullet 1 holds the land speed record for electric vehicles at 315 mph.
The Buckeye Bullet 2 uses a 700 horsepower electric motor coupled with two Ballard fuel cells to provide the propulsion for this vehicle. The OSU College of Engineering designed the Buckeye Bullet 2 using CAD software to give the streamliner its unique aerodynamic features.
| | |
| --- | --- |
| The Ford Hydrogen Fusion 999 will also compete at the Bonneville Salt Flats in Utah to set the land speed record for production model fuel cell vehicles. | |
The Ford Hydrogen Fusion 999 is charged with both hydrogen and helox gases and is built for speed, stripping out any hybrid components such as regenerative braking that could slow the vehicle down from setting its record.
The Fusion 999 will be equipped with a 350 kw stack from Ballard and will try to break the 200 mph barrier when it makes its seven mile run. Designers from Ford, Roush and the engineering department at Ohio State University have all had a hand at helping on the Hydrogen 999 racecar.
| | |
| --- | --- |
| Toyota MTRC | The Toyota Motor Triathlon Race Car (MTRC), a fuel cell concept car, made it debut at the 2004 New York International Auto Show. Toyota's European design studio ED2 both designed and built the MTRC concept car. |
The MTRC concept car is also being showcased in Sony Playstation's Gran Turismo 4 home video game. The 'triathlon' part of the name comes from Toyota's intent to race the car on three venues: a narrow city street circuit, high-grip racetrack and an off-road track. The H2 vehicle is a 4-wheel drive machine with each wheel powered by a hydrogen fuel cell stack.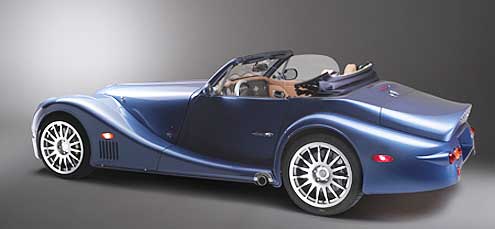 Morgan LIFEcar
Morgan Motor Company, a UK automobile manufacturer is building a hydrogen race car (Morgan LIFEcar) modeled after its classic 150 mph Aero 8, now being sold in the U. S. A company called QinetiQ is developing the fuel cell for the LIFEcar. For its storage solution, Morgan reportedly will be using ultra-capacitors.
| | |
| --- | --- |
| Jack Dex, 13-years-old, driving a BOC Ech2o, tries to break the 10,000 mile per gallon fuel efficiency record. | BOC Ech2o |
Jack Dex, 13-years-old of Southam College, Warwickshire, UK will be driving a BOC Ech2o car and attempt to break the world record for fuel efficiency (15,212 miles per gallon). The current world record as noted by Guinness Books was set by the ETH Zurich PAC-Car II on June 26, 2005 in Ladoux, France.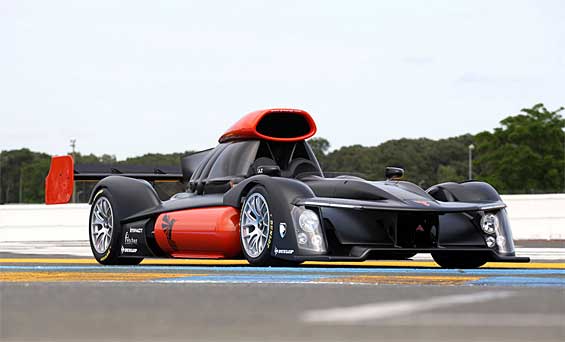 The GreenGT H2 first built in 2011 was rolled out in 2012 and is expected to run in Le Mans in 2013 (at least make a showing).
| | |
| --- | --- |
| The HyEngine HyRacer uses a 1991 Honda body and modified internal combustion engine. | |
| | |
| --- | --- |
| | The Aston Martin Rapide S Hydrogen Hybrid car has a twin turbocharged 6.0-litre V12 engine that will power the Nürburgring car. |
Hydrogen Raceways
Hydrogen race cars would be never come to be if there were no hydrogen car races and hydrogen car raceways to race them upon. Since H2 cars are so new, though, the only competitive H2 racing is being done on a smaller scale through a couple of forward-thinking school programs.
The Hydrogen Sprint is open to all Florida students grades 9 – 12. The 2005 Hydrogen Sprint was held May 7 at the Florida Solar Energy Center in Cocoa, Florida. According to the Hydrogen Sprint site, "Vehicles are designed and constructed around a small PEM fuel cell with open design and material parameters. Hydrogen for the fuel is produced by electrolysis powered by photovoltaics. Vehicles are judged on technical merit, innovation and speed on a 7 meter track; teams are also judged on their presentations."
The 2005 Texas Solar & Hydrogen Cell Race Car Event took place on May 14, 2005 at the Dub Farris Athletic Complex in San Antonio, Texas. The event was open to all Texas grade school and middle school students with a hydrogen and / or solar powered car. It's not the Pinewood Derby anymore.
Whether you're into hydrogen race cars, races or raceways, the future is most promising for all sorts of H2 products and events. A few years from now, fossil fuel cars will be old school and H2 cars will be the "Next Big Thing" in racing. Can you say, "NASCAR H2 Oh!"?
Written by Hydro Kevin Kantola