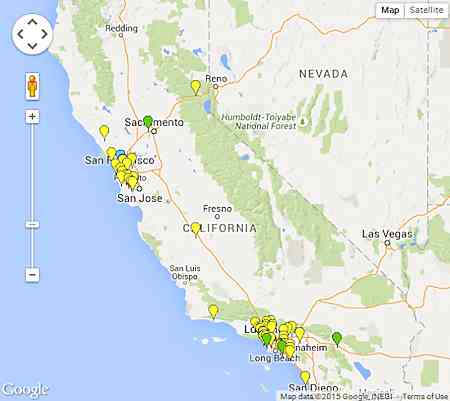 Green Car Reports recently posted an article about how some current hydrogen fuel cell car owners in California are dissatisfied at the experience since several Los Angeles and Orange County demonstration H2 stations are offline. And this is understandable. If you buy or lease a new car you'll want to fuel up nearby.
So, in order to alleviate some of these technological and public perception "growing pains" the California Fuel Cell Partnership (CaFCP) has published several pages regarding California hydrogen fueling stations that will be of help to those who currently have or are thinking of buying or leasing a fuel cell vehicle in the Golden State.
The first CaFCP Station Map shows all of the H2 stations in California that are open, in development or for use with fuel cell buses.
The second Hydrogen Fueling Station resource is an 11-page PDF file that shows detailed info including photos of the stations, map, station information, hydrogen supply/equipment, design construction / O&M service contractors, station contacts, funding/financing and other details.
The third H2 station resource, and perhaps the one of most interest to current and potential FCEV drivers, is a 4-page PDF file that shows whether a station is an open retail station, an open demonstration station, under construction, or in several different levels of permitting, planning and commissioning.
With these maps, resources and guides a person can decide for themselves if now is the time to be on the leading edge and buy or lease an FCEV in California considering that there will still be growing pains as the fueling infrastructure continues to develop throughout the state.
Photo/Map at top courtesy CaFCP