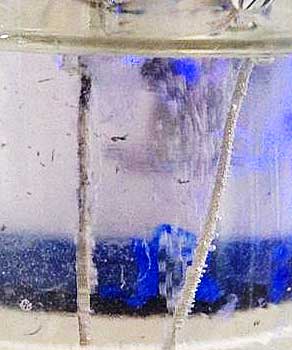 At the leading science foundation in Ireland, CRANN, researchers there have discovered a non-platinum method for creating hydrogen gas from water. This new method uses iron and nickel oxide to do the efficient water splitting.
Now, I have talked before about how iron may be the new platinum. I've also posted over a dozen times about how nickel may be the material of choice in both fuel cells and for producing hydrogen.
At Trinity College in Dublin, however, Professor Mike Lyons has taken a unique approach in using these two metals.
According to the college, "Professor Mike Lyons, a Principal Investigator at CRANN and TCD's School of Chemistry and his team have developed new inexpensive materials based on iron and nickel oxide to split water into its components hydrogen and oxygen (water electrolysis). These materials are much cheaper, more readily available and more efficient than those used in current electrolysis methods …
… "Commenting, Professor Lyons said, 'With my team of researchers, we are consistently striving to use well-known research methods to deliver unprecedented results. This method of water electrolysis takes the simplest of materials – nickel and iron – and uses them to ground-breaking effect. Hydrogen is the next clean energy source and CRANN is leading the international race to find its best method of production.'"
So now we have another new and novel way to produce hydrogen from H20. The trick will be scaling up this process to mass commercialization. And a man with the heart of a Lyon may just be the one to do this. 🙂