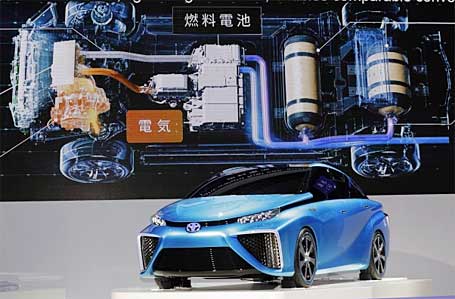 After weeks of speculation, Toyota has finally unveiled its FCV concept car (pictured above) at the Tokyo Motor Show. Toyota has teased us for a couple of weeks with foil-covered cars and an artist's rendition of what the car may look like.
According to the Washington Post, "Satoshi Ogiso, the Toyota Motor Corp. executive in charge of fuel cells, said Wednesday the vehicle is not just for leasing to officials and celebrities but will be an everyday car for ordinary consumers, widely available at dealers …
"…The car will go on sale in Japan in 2015 and within a year later in Europe and U.S. Toyota's fuel cell car is on display as a 'concept' model called FCV at the biannual show, where alternative fuel is grabbing the spotlight. The exhibition, drawing 32 automakers to Tokyo Big Sight convention hall, previewed to the media Wednesday."
Toyota goes onto say that the fuel cell vehicle that the put up for sale to the general public will cost between $50,000 and $100,000 and hopefully as close to the lower end as possible.