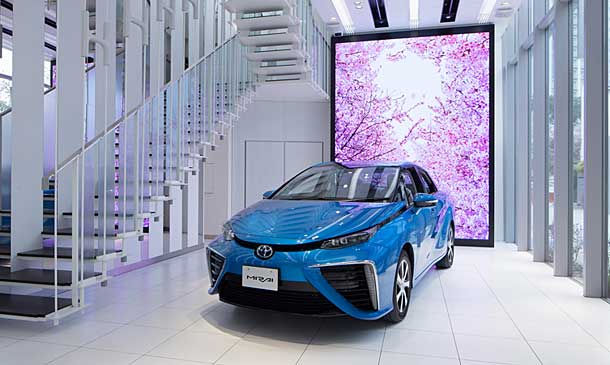 A review of the year 2015 has unveiled many key hydrogen car milestones. In fact, there were so many that I could not possibly fit them all into one blog post. So I've pared the list down to my top 15.
Top 15 Hydrogen Car Milestones of 2015
Toyota Mirai (pictured above) rolled out for sale and lease at dealerships in the U. S. and UK
Nissan changed course and committed to building a fuel cell vehicle
Mercedes-Benz announced that 2017 GLC F-Cell is in the works
1st ever National Hydrogen and Fuel Cell Day was celebrated on October 8th, 2015
Hyundai introduced hydrogen fuel cell self-driving R car
Mercedes-Benz introduced F 015 concept driverless car
Honda FCV Concept was officially debuted at the 2015 Detroit Auto Show
Renault Kangoo ZE with Symbio FCell was unveiled in France
BMW i8 Hydrogen prototype was spotted taking laps on a track in July 2015
BMW 5 Series GT was shown at the BMW Group Innovation Days 2015
Toyota FCV Plus prototype was unveiled
Taiwan rolled out the country's first hydrogen fuel cell hybrid car
The Hyundai ix35 Fuel Cell was introduced to Australia
NanoFlowcell QUANTiNO concept was unveiled
Lexus LF-FC was introduced at 44th Tokyo Motor Show
As previously stated, there were many more H2 milestones that could have been added to the list. What was your favorite milestone that isn't mentioned on this list?