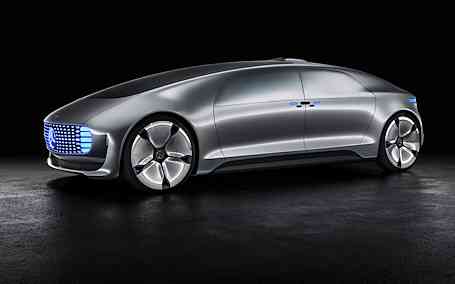 At the 2015 CES consumer electronics show in Las Vegas the Mercedes Benz F 015 Luxury in Motion fuel cell vehicle has been unveiled. This concept vehicle is also a self-driving car.
According to Sci-Tech Today, "The F 015 is built from lightweight carbon fiber, aluminum, and high-strength steel. The car is technically a rechargeable hydrogen fuel cell vehicle. It has a battery that recharges by parking it on a charge pad, a technology that will likely arrive as an alternative for plug-in electric vehicles before this concept car goes on sale. The F 015 also has a fuel cell powered by tanks of compressed hydrogen.
"Such a concept car allows Mercedes to flex its technical and creative muscles, and keeps the Mercedes name at the forefront of the self-driving conversation. Both experts and automakers say it isn't a question of if these vehicles hit the road, it's when."
Mercedes-Benz says that this vehicle won't be available until around 2030, but it wants to start the conversation now about the benefits of luxury models of self-driving cars that are also zero emission vehicles. At some point Limo drivers may need to find a new line of work.