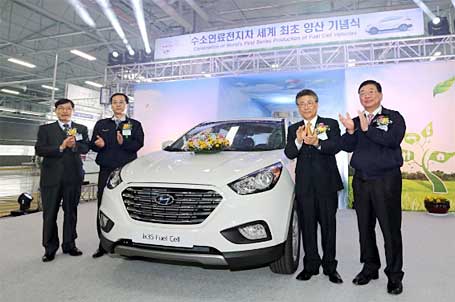 Well, it was supposed to roll out December 2012, then January 2013 and now finally in February 2013 the first Hyundai ix35 Fuel Cell vehicle has finally rolled off the assembly line in Ulsan, Korea which is being sold commercially as a fleet vehicle elsewhere in the world.
Now I've talked about the Hyundai ix35 many times before and having test driven it myself I can tell you what a fine piece of automotive machinery it is. The Hyundai ix35 that has just rolled off the assembly line is one of 17 slated to be used as fleet vehicles by either the City of Copenhagen, Denmark or Skåne, Sweden. Copenhagen gets the lion's share at 15 vehicles while Sweden gets 2 ix35's.
Ulsan Mayor Mang Woo Park, said, "Assembly-line production of fuel cell vehicle marks a crucial milestone in the history of the automobile industry not just in Korea. By supplying more hydrogen refueling stations to support the eco-friendly fuel cell vehicles produced, we will make Ulsan the landmark for eco-friendly automobiles."
Now that the horses are out of the shoots, Hyundai plans on producing 1,000 fuel cell vehicles by the year 2015. After that, then Hyundai plans on producing tens of thousands of fuel cell vehicles.
Hyundai is playing it smart, by adding features that are only available when buying an ix35. According to Hyundai, "The development and application of a new radiator grille, bumper, fog lamps, super vision cluster and 7-inch GPS exclusively for the hydrogen fuel cell vehicles enhances the ix35 Fuel Cell's marketability."
So, there you have it, the race towards Fuel Cell Vehicle commercialization has finally left the gate. The horses with their clean horsepower are out of the starting gates and in the year 2015 Hyundai (as well as the other large automakers) state that fuel cell vehicles will be available to purchase for consumers. And that will make the Hyundai VIPs (smiling above) smile like Mr. Ed with a mouthful of peanut butter.