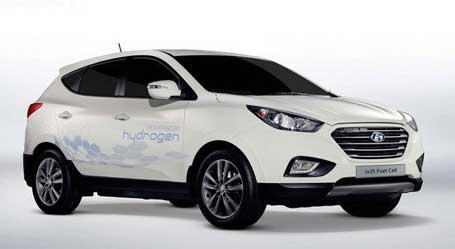 At the 2012 Paris Auto Show which ended about 10 days ago Hyundai had formalized a previous announcement that will be a game-changer in the hydrogen car industry. The Korean car company stated that they will start commercial production of the Hyundai ix35 fuel cell vehicle in December 2012.
That's right folks, in just two months, Hyundai will change history by starting to manufacturer the first commercial hydrogen fuel cell vehicle for sale and lease (instead of lease-only like a couple of other manufacturers such as Honda and Daimler are doing).
The Hyundai Tucson ix35 fuel cell electric vehicle (FCEV) will be manufactured at the Ulsan factory in South Korea. From there Hyundai has lined up its first customers in Danish and Swedish cities which will use the ix35 FCEV for fleet vehicles.
Hyundai intends to manufacture up to 1,000 ix35 FCEV's between December 2012 and 2015. According to The New Zealand Herald, "Beyond 2015, Hyundai plans limited production of the ix35 Fuel Cell, with a goal of 10,000 units – though there are no plans for the vehicle to be sold in New Zealand."
Hyundai's initial goal is to sell and lease its fuel cell vehicles in South Korea, Europe, Scandinavia and the United States. An old Chinese proverb states, "May you live in interesting times" and my friends, in regard to hydrogen cars, those times are just getting started.