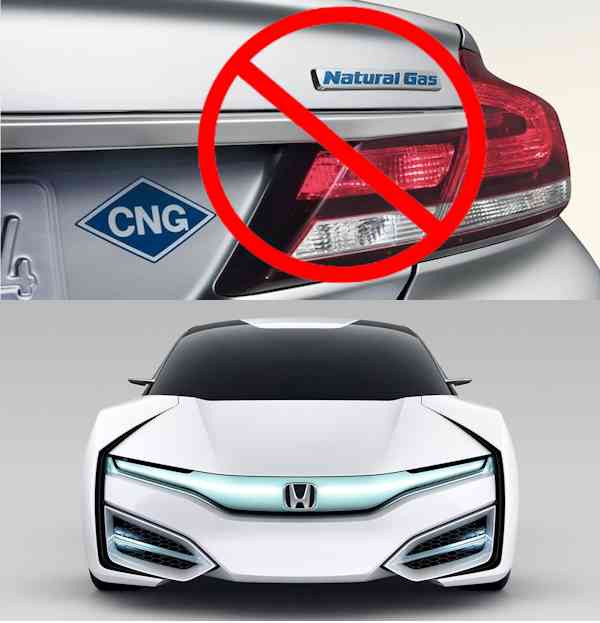 Honda is shifting gears, so to speak, in regard to the building and marketing of their lineup of alternative fuel cars over the next several years. Honda is saying "No" to their Natural Gas Civic which they have been selling since 1998 and they are saying "Yes" to their future hydrogen fuel cell vehicles.
According to Reuters, "John Mendel, speaking with reporters in Detroit, said the company had sold about 16,000 natural gas-fueled Civic compact cars since 1998 in a limited sales area of the United States. He said the falling price of gasoline relative to natural gas helped lead Honda to deciding to drop the car …
"…Mendel said any inconvenience for customers of alternative fuel vehicles, such as not being able to find a refueling station, will put them off. But he added that he is more confident of a robust hydrogen fueling station network than he was for natural gas stations, in large part because he expects more government help in establishing a hydrogen refueling network."
Honda also said they will be introducing more hybrids, plug-in hybrids and a full battery electric vehicle within the next 3 years.
I am a bit surprised by Honda's decision to ditch the CNG. In southern California where I'm located I have seen quite a few people driving the Honda natural gas car over the years. In fact, this CNG stations map shows pretty good coverage throughout the United States.
But, as with all cars, the market shall determine which ones stay and which ones go. And, even though it was a bold experiment, it is now time for those fracking natural gas cars to ride off into the sunset and for the cleaner and greener hydrogen fuel cell vehicles to take their places.