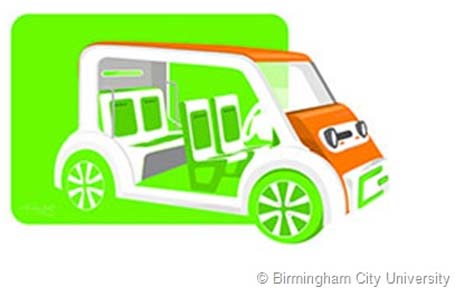 A fuel cell version of the classic Tuk-Tuk auto rickshaw in India has been unveiled at the Auto Expo Motor Show in New Delhi. The vehicle makers are attempting to develop a low cost hydrogen fuel cell vehicle for the marketplace.
According to Birmingham City University, "The joint collaborative project between the University, DYP-DC and Spencer Ashley has been set up to produce a four-wheeled replacement for the abundant auto-rickshaw vehicle, affectionately known as the Tuk Tuk utility vehicle.
"The powertrain for the new and innovative car which produces zero exhaust emissions, consists of a hydrogen fuel cell, an electric motor and a complex control system. Hydrogen for the vehicle is stored in a cluster of low pressure metal hydride cylinders, providing a safe means of fuelling the system. A thermal compressor retrieves the produced hydrogen by splitting water into its component elements – hydrogen and oxygen – via solar energy. Hydrogen storage cylinders can then be used to power equipment including mobile phones, computers and lighting in remote and developing areas or in a humanitarian disaster situation, as well as powering an electric vehicle."
So, there you have it. The fuel cell Tuk-Tuk may not be a luxury hydrogen SUV as some automakers have been building, but this utilitarian passenger vehicle may help bring in a new era of zero emission cars into the worldwide marketplace.