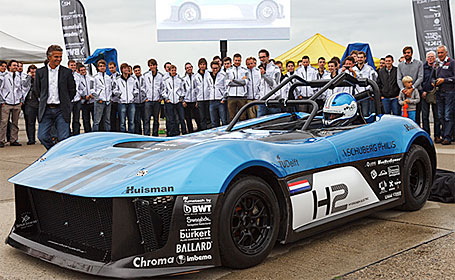 The hydrogen fuel cell racecar that we've all be waiting for has finally been unveiled. A team of about 70 students from Delft University of Technology in the Netherlands have created the Forze VI, a full-size hydrogen powered racecar that can achieve a top speed of 220 km/h and the only emissions are steam and heat.
Forze VI fuel cell plus two electric motors power the car with an output of 190 kW (260 bhp). The racecar also has two tanks that can hold 3 kg of hydrogen. According to the tuDelft website, this is the "first full-size hydrogen fuel cell powered racecar." There are a few others, however, listed on my hydrogen racecar page so I'll let you decide what is what on this assertion.
On May 15, 2013 I had talked about how team Delft had turned to crowdfunding to get some of the money to build this racecar. In the past couple of years crowdfunding (think kickstarter.com and others) has been a popular way to raise money from many people rather than relying on small groups of investors.
Now that the car has been build, team Delft wants to go after racing records. Some of these venues will include the circuit of Zandvoort in The Netherlands, NürburgringNordschleife in Germany and the Dutch Caterham Cup.