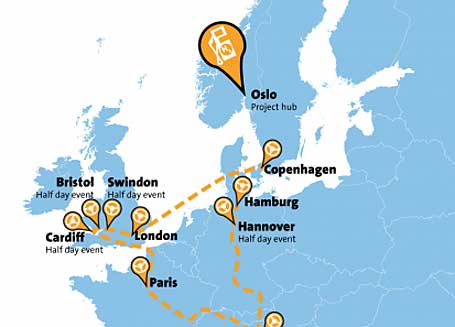 On the Anniversary of 9/11/2001 many people are taking pause to commemorate though who  had fallen victim that day. Even President Obama and candidate Romney have suspended negative campaigning in remembrance of this day in U. S. history.
But, across The Pond things are a bit different. Instead of thinking about the past the European Hydrogen Road Tour 2012 is thinking about the future and has started its own clean energy campaign to educate the public about the advantages of hydrogen cars.
According to ScandinavianHydrogen.org, "The message is clear: Hydrogen vehicles are already here – ready for mass production from 2014-2015 onwards. But there is still a significant need for infrastructure build-up.
"For the European Hydrogen Road Tour 2012, car manufacturers and infrastructure organizations, together with other related industry and local stakeholders were invited to join our journey in building a strong Hydrogen Fuel Cell Vehicles partnership in Europe!
"Major car manufacturers have devoted a significant amount of resources towards developing hydrogen powered Fuel Cell Electric Vehicles (FCEVs) that will be mass produced in a few years. That is why we take cars from four companies – Daimler, Honda, Hyundai and Toyota – along the European Hydrogen Road Tour 2012."
Here is the Route for the Road Tour
Hamburg          September 13 – 15
Hannover         September 17
Bolzano              September 19 – 21
Paris                    September 27 – 29
Cardiff                 October 3
Bristol                 October 4
Swindon             October 4
London               October 5 – 6
Copenhagen      October 9 – 10
One of the main goals of the European Hydrogen Road Tour 2012 is to accelerate the growth of the hydrogen refueling infrastructure. The year 2015 is just around the corner and there is a lot to do between now and then. Hopefully, others will be persuaded to jump on board and help build as many H2 fueling stations as possible to support the cars rolling off the production lines.