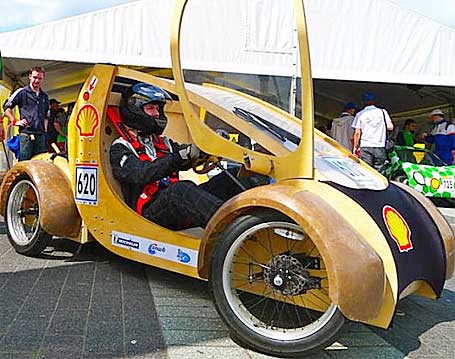 The Shell Eco-Marathon Asia 2013 has been called off because of inclement weather. But, be that as it may, the development of student-built hydrogen cars continues.
One notable hydrogen car (pictured above) is the one built by the estudiantes at Aston University in Birmingham, UK. Besides developing a new fuel cell for the car, the students are using plywood and cardboard in order to shave some weight from the frame.
According to Ubergizmo, "The Shell Eco-Design competition has always thrown up some rather surprising designs from the participants, and the winner in this competition has also been pretty innovative to say the least. In this year's edition, students from Aston University managed to emerge as the winners, after their participation that saw a cardboard and plywood hydrogen-powered racecar occupy the top dais.
"This eco-friendly ride had to duke it out with other equally innovative ideals from various student teams, but what set them apart was their focus on a compact urban commuter which can easily be folded flat when it comes to shipping (credit to IKEA for popularizing that)."
To learn more about this project, check out the links below.
Sources
http://www.ubergizmo.com/2013/07/hydrogen-powered-cardboard-race-car/
http://inhabitat.com/aston-university-students-create-a-hydrogen-powered-cardboard-race-car/
http://www1.aston.ac.uk/about/news/releases/2013/may/eco-marathon/