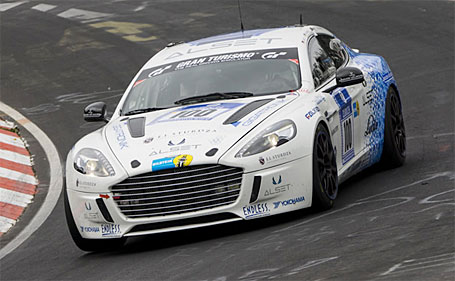 This weekend, August 17 – 18, 2013, the Aston Martin Rapide S hydrogen hybrid racecar (pictured above) will be running at Shelsley Walsh in the Midlands, United Kingdom. The Rapide S is a bi-fuel vehicle that can run on either compressed hydrogen gas or gasoline.
On May 01, 2013, the Rapide S completed its first lap at the ADAC Zurich 24-Hours of Nürburgring Race.
According to the Shelsley-Walsh website, "During the race, Dr Bez became the first person ever to complete a zero CO2 emissions race lap of the famous Nurburgring Nordschliefe, going on to cover nearly 40 kms at racing speed running on pure Hydrogen before the car seamlessly reverted to petrol running as the Hydrogen pressure dropped below its minimum level.
"After Nurburgring the car did a demo lap at Le Mans just before the 24h race, but it has not been driven in competition anywhere else in the world until coming to Shelsley Walsh."
The Rapide S racecar uses a twin turbo 6.0 litre V12 developed by Aston Martin and Alset GmbH.