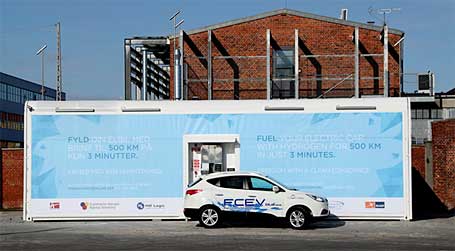 On February 26, 2013 I had talked about how Hyundai had rolled their first ix35 FCEV fuel cell vehicles off the assembly line at its Ulsan factory in Korea. Now, 15 of those vehicles have been shipped and delivered to Copenhagen, Denmark.
According to Hyundai, "Hyundai Motor Company has today delivered the first of its assembly line-produced ix35 Fuel Cell vehicles to the City of Copenhagen in Denmark. They were handed over by Hyundai Motor Europe, Hyundai Motor's European sales subsidiary, during the opening ceremony of Denmark's first hydrogen refuelling station."
This marks the beginning of the "European invasion" for commercial hydrogen cars upon that continent. And along with the 15 fuel cell vehicles that were delivered to Copenhagen was the city's first public hydrogen fueling station.
What makes this H2 Logic hydrogen fueling station unique is that it was built, delivered and ready for refueling in just 48 hours. Here is a cool, 4-minute time-lapse video showing this 48-hour process for the hydrogen fueling station.