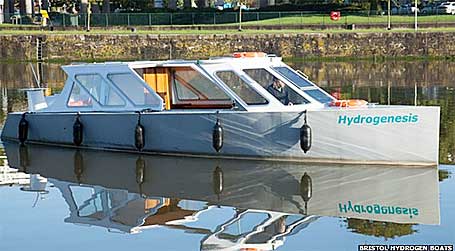 I had first mentioned the Hydrogenesis fuel cell ferryboat during the 2012 European Hydrogen Road Tour. During October 2012 Hydrogenesis was supposed to launch but was beset with technical issues until now.
According to the BBC News, "Commissioned for the city council's Green Capital initiative, Hydrogenesis operates 45-minute trips between the Arnolfini and the ss Great Britain. Keith Dunstan, director of Bristol Hydrogen Boats, says the vessel is the UK's first hydrogen fuel-celled boat.
"The 11m (36ft) 12-seat vessel had been due on the water last weekend but a technical fault caused a delay. The vessel, which cost £225,000 and produces no emissions, is starting a six-month trial in the city docks."
Now, the Hydrogenesis isn't the first hydrogen boat worldwide as I've mentioned several other fuel cell vessels before. But, it is the first in the UK and adds to the burgeoning hydrogen vehicle portfolio the Great Brits are starting to pull together. So well done, Chaps, well done.