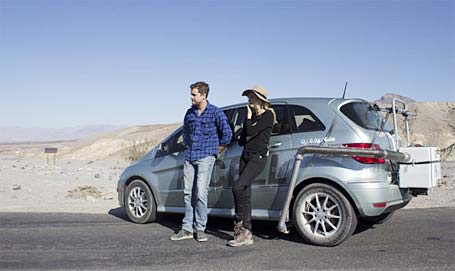 Hollywood stars are nothing new in regard to hydrogen cars. For instance, Brad Pitt, Angelina Jolie, Edward Norton, Cameron Diaz, Placido Domingo and Magic Johnson have all driven one.
But, now a couple of Hollywood stars are not only driving hydrogen cars but testing them in extreme weather as well. For instance, Diane Kruger from the movie Inglorious Basterds and Joshua Jackson from the TV series Fringe have taken a Mercedes-Benz B-Class F-CELL to California's Death Valley.
They took a trip to one of the driest places on the planet without carrying water and drank the exhaust water from the Mercedes. Of course the capture method for the waste water was modified somewhat.
According to Daimler, "Diane Kruger and Joshua Jackson are now showing in a film just how much potential the fuel cell drive system offers – on a trip in California's Death Valley, one of the driest places in the world."
Here's the Youtube video: http://mb4.me/drive4water
I get email every once in a while from someone who is excited that the fuel cell vehicles may be putting out too much water and that this will contribute to global warming.
Well, according to the CaFCP, "A fuel cell doesn't produce enough water to fill your glass. When we drink tailpipe water for a camera … it's not more than a few drops. If fact, fuel cells produce about the same amount of water as gasoline vehicle – about 1/3 cup for a full day of driving."
So, in other words, don't try this at home. Leave it to the professionals Diane Kruger and Joshua Jackson to go to Death Valley and drink tailpipe water. For everyone else who goes to the desert, bring plenty of water for your trip and come back healthy and well hydrated.